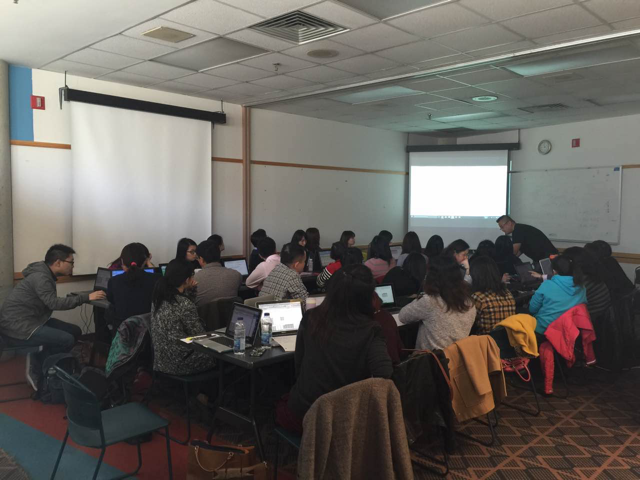 CCPAA has successfully hosted another great event – Excel workshop, on Oct 25, 2015, Even though it was a chilly Sunday afternoon, the enthusiasm of the attendees were extremely high. The workshop was a 3-hour session combining both instructor instruction and hands-on exercise.
Over the 3 hours of workshop, Max walk us through the basic Excel knowledge, intermediate functions, and the advanced functions. He pinpointed the most common pitfalls that professionals encounter during the daily work, as well as the best pratice to process data from step one. He covered the important Excel topics as much as possible within limited time, this includes General Excel setup and Excel Good practice; Data Processing and Analysis; Reporting and Dashboard. During the Q&A session, participators shared their common issues they have encountered during daily work, they were discussed and addressed by Max.
Excel is obviously an essential tool for professionals within accounting and finance fields. And it is always a high demand event at CCPAA, 25 tickets were sold out quickly within 2 days, and we have to add another additional 10 tickets due to the high demand.
We would like to thank our volunteers – Amy Xu, Saice Sun, Yi Ping Zhao, Elle Guo, who planned and executed the workshop. Special thanks to our instructor Max who not only prepare the entire package of teaching material, but also generously shared his extensive Excel knowledge and profound Excel practical experience. Thank you all who made this precious opportunity possible for our members.
There are so much more Max can speak to each of the topic and there are also lots of member who missed the workshop are waiting for the next one. CCPAA organizers and volunteers are deeply motivated by such a great learning passion. We plan to launch another session in the near future. CCPAA will continue our work provide high quality professional development seminars and workshops, we sincerely thank you all for your support.
Written by Amy Zhao, reviewed by Cheng Lin