CCPAA 2014 CAREER DAY
With the preparation for more than a month, Canadian-Chinese Professional Accountant Association has successfully held 2014 Career Day on June 14. It was a great event with over 100 attendees. CCPAA invited business elites – 7 speakers – who hold the management positions in accounting, finance and human resources to share their thoughts and stories.
In the opening address, our president Diana Yang not only expressed her appreciation to the sponsors, members and non-members, but also introduced the meaning behind CCPAA to everyone.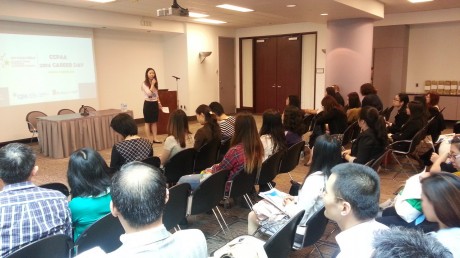 | | |
| --- | --- |
| Opening Address – Diana Yang | CCPAA Introduction |
The first speaker, Mr. Bryan Jacobs, showed us the key competencies required to be successful in an accountant's career. Mr. Jacobs is a CPA, and a CMA who holds responsibility as Director of Workforce Recruitment with emphasis on communicating the CPA designation to university graduates in Ontario.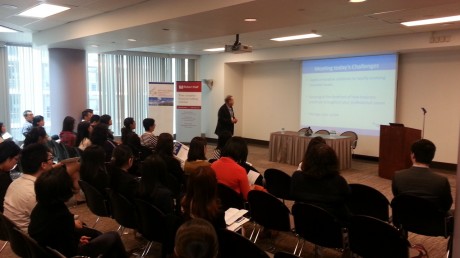 CPA Key Competencies – Bryan Jacobs
Second speaker Tracey Weintraub is a Division Director of Accountemps (Robert Half Canada). She presented us a very interesting topic about social media and your career. She walked us through how to utilize social media platforms such as LinkedIn, Facebook and Twitter to expose positive information to our career.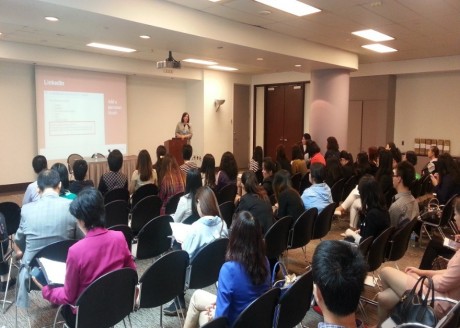 Social Media & Your Career – Tracey Weintraub
The topic of the following hour was designed to give audience a chance to know the perspectives of HR people during the hiring process. Sharon Lovery Hasan, a CHRP who has years of HR experiences in financial service industry, held a resume and interview workshop. The following topic "what are hiring managers looking for" was given by Tong Yin, a CPA, CA, MMPA, and also a financial professional with extensive hiring experiences.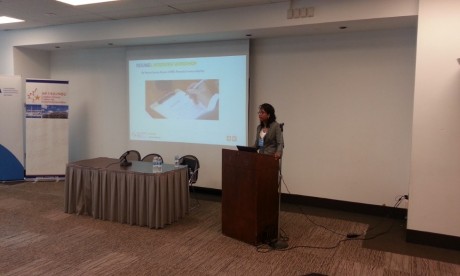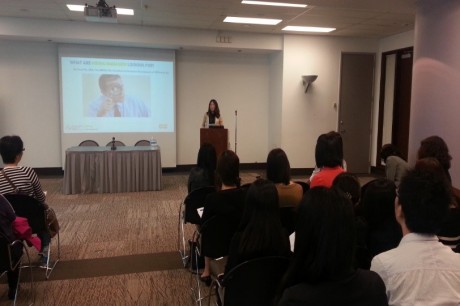 | | |
| --- | --- |
| Resume & Interview Workshop – Sharon Lovery Hasan | What Are The Hiring Managers Looking For? – Tong Yin |
Why are some people more successful than others? What can we do to feel more accomplished about life and career? Those are the common questions asked by new birds and juniors in their early stages of career. CCPAA invited three business elites to share their success stories with us. Laura Xi, a CMA, CIA, MMPA and Risk and Assurance Consultant of Government of Ontario, shared her experiences in different companies and positions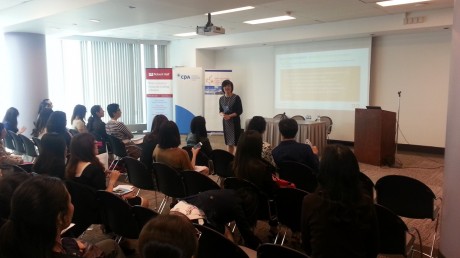 Katherine Hui, a CA, MACC and Senior Financial Analyst of Toronto Hydro – Electric System LTD told us her story of "ordinary success" in a very humorous and inspiring way.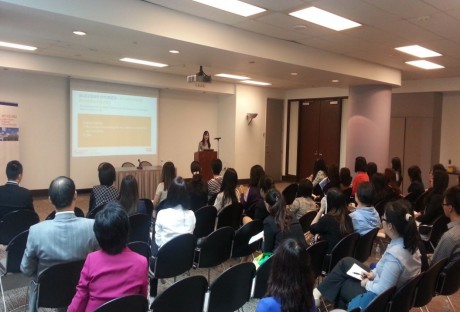 Success Story – Katherine Hui
The last speaker is a Truman Chen, a CFA, MFIN and Manager of Valuation & Business Modelling at EY. He showed us his interesting and unique opinions about career design, as well as the journey from accounting to corporate finance.
 Success Story – Truman Chen
Please continue to follow CCPAA. We have more events upcoming up for you.