CCPAA-ON 15th Annual Conference
0( 0 REVIEWS )
92 STUDENTS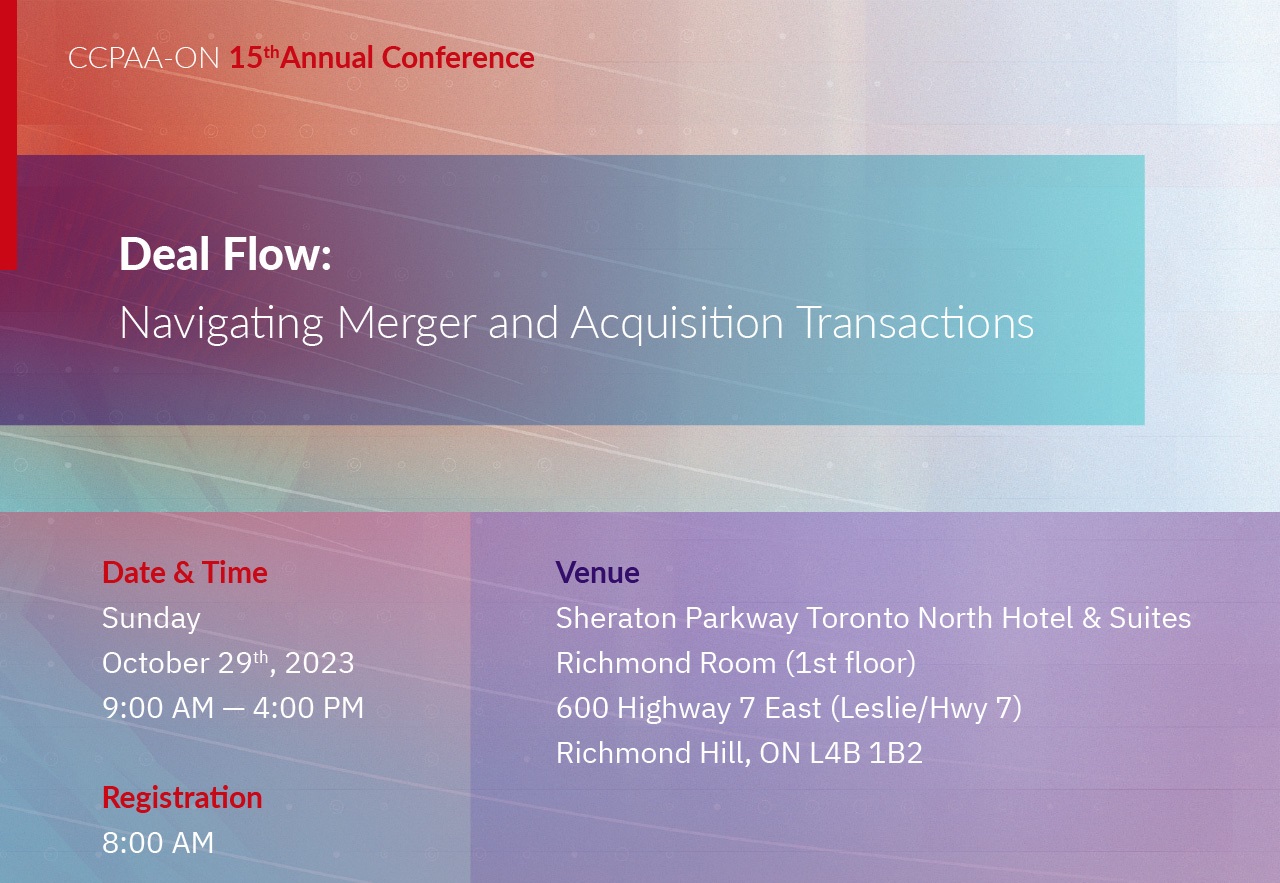 Deal Flow: Navigating Merger and Acquisition Transactions
Summary
Mergers and acquisitions (M&A) refer to consolidating companies or their major businesses through financial transactions between companies. In 2020 and 2021, the M&A landscape witnessed a considerable uptick due to cheaper financing and lower interest rates. In the latter half of 2022 and the beginning of 2023, M&A activities decreased due to market volatility and uncertainties such as the war in Ukraine, supply chain disruption, and other geopolitical tensions. Despite the initial downturn, deal volumes are expected to rebound quickly in 2023 as a result of the global economic recovery and disruptions in the financial service industries, such as the collapse of Silicon Valley Bank (SVB), US Operations acquired by First Citizen, Sale of Credit Suisse to UBS, etc.
CCPAA-ON's 15th Annual Conference, "Deal Flow: Navigating Merger and Acquisition Transactions," aims to delve into the intricate landscape of mergers and acquisitions, exploring the underlying dynamics, challenges, and opportunities that arise within this realm of corporate strategy. 
With the current global business environment witnessing an unprecedented wave of M&A activities, this conference intends to foster an engaging platform for practitioners and thought leaders to share valuable insights, exchange knowledge, and shape the future direction of the M&A landscape.
Event Information
Date & Time: Date: October 29, 2023, 9:00 am to 4:00 pm EDT
Location: Sheraton Parkway Toronto North Hotel & Suites
Address: 600 Highway 7, Richmond Hill, ON L4B 1B2

Room: Richmond Ballroom 
Early Bird Price (Ends Oct 22nd, 2023): Member: $110  Non-member: $125
Regular Price: Member: $135  Non-member: $150
Online registration closes 9:00 p.m., October 27th, 2023.
Dress code: Business casual
CPD: 5 Hours**
*Once registered, you will receive an email confirmation.
**Active participation is mandatory for receiving the CPD certificate.
Agenda
Time 
Description

9:00 – 10:00 

Breakfast, Registration & Networking

10:00 – 10:05 

Conference Introduction 

10:05 – 10:15

Opening Remark from CCPAA-ON 

10:15 – 10:25

Remark from CPA Ontario 

10:25 – 10:30 

Sponsor Appreciation

10:30 – 11:15

M&A Market Overview 

Current macro environment & market conditions

M&A activity recap and outlook

Implications for sellers and buyers 

Speaker: Stephen Ng, Managing Director, Crosbie & Company

11:15 – 12:00 

  Legal Issues

Legal issues, including legal due diligence, key transaction documents, public vs. private transactions, closing conditions (including regulatory considerations). 

Speaker: Matthew Hunt, Partner, Bennett Jones LLP

12:00 – 13:00 

Lunch & Networking 

13:00 – 14:10

Accounting and Tax Issues

Financial reporting, accounting and tax considerations in the life cycle of a transaction. 

Speaker: Jessica Zhang, CPA, Senior Manager, Accounting Advisory Services, KPMG  

    Shaka Raina, CPA, Senior Manager, M&A Tax, KPMG

14:10 – 14:55 

M&A from investors' view 

Current M&A and sector trends and its implication on business valuation

Hot topics in M&A and potential future trends

Speaker: Elaine Liu, CFA, Manager, Valuation, Modelling & Economics, EY

               Bryan Lam, CPA, Manager, Valuation, Modelling & Economics, EY

14:55 – 15:10 

Coffee Break & Networking

15:10 – 16:00

Panel Discussion

Panelists: 

Stephen Ng, Managing Director, Crosbie & Company

Tina Liu, Counsel, Bennett Jones LLP

Jessica Zhang, CPA, Senior Manager, Accounting Advisory Services, KPMG 

Bryan Lam, CPA, Manager, Valuation, Modelling & Economics, EY